Visit Jane's Quilling Blog to see some of the quilling projects her classes have enjoyed,
and how to make them.
LOTS OF QUILLING BOOKS FOR BEGINNERS AND THE MORE EXPERIENCED!

Jane Jenkins' FIRST QUILLING DVD (60 min.)
A beautiful gift for beginners and experienced quillers alike, this DVD is packed with ideas for cards, pictures, plaques, free-standing,
tree-decorations, ornaments and quilled eggs. Through the making of two beautiful cards, Jane shows Closed Loose Coils, rolling with fingers only,
Double Rolling, simple Solid Coils, simple and multi-strip Alternate Side Looping, Fringed Flowers, "Insect Wing", Spiral Roses and more.
First Quilling DVD - £8.00 each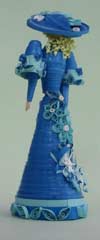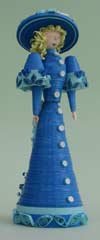 Jane Jenkins' SECOND QUILLING DVD

Here's another hour packed with quilling ideas - Solid Coils, Ring Coils, Open coils, Filigree Flowers, models, Easter Bonnets,
Finger Puppets, Boxes & Brooches, Free-standing costumed ladies and everything you need for a quilled Christmas.
So much easier to watch quilling being done and explained in the comfort of your own home!
Second Quilling DVD - £8.00 each


Jane Jenkins' QUILLING MPEG 4 Video "LOCKING TWEEZER LETTERS"
What style there is in a beautifully written greeting in calligraphy. Jane shows how equally beautiful letters and numbers can be quilled in paper.
Jane has broken each letter part down into one of four basic shapes. She shows how these can be used to make all letters,
upper and lower case, and numbers, too.
The result is stunning and Jane's instructions can be followed to make all kinds of words for a special occasion or just for fun,
in a variety of paper widths for such as cards, or to stand freely.

You can make artistic creations, too, just as calligraphers do.

Play this on your PC or laptop or plug into a TV.
Locking Tweezer Letters MPEG 4 Video - £7.50
---
---
| | | |
| --- | --- | --- |
| TOP | Jane Jenkins' "TECHNIQUES IN QUILLING No. 1" | NEXT |



"Fir Trees, Fountains and Fantasy Flowers"

Whether you are just a beginner or an experienced quiller, Jane Jenkins' book is just for you!

The next best thing to a quilling class, its colourful pictures and easily followed descriptions and illustrations
teach you techniques you may never have seen before and can use in all kinds of designs.

£4.50



---
| | | |
| --- | --- | --- |
| TOP | Jane Jenkins' "TECHNIQUES IN QUILLING No. 2" | NEXT |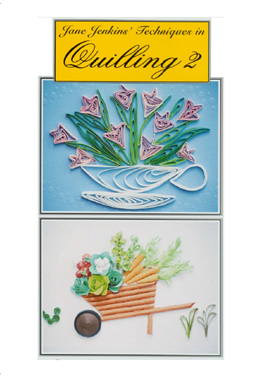 "Ballet shoes, Barrow and Boot"
Quill pictures of attractive containers from yester-year, arranged with flowers - an umbrella, fashion shoe, cup and saucer, ballet shoes,
top hat, vase, watering can, ancient well, vintage pram, boot and teapot - with vegetables for the wheelbarrow!
Colour pictures and detailed designs lead you through a quilling experience too good to miss!

£4.50
---
| | | |
| --- | --- | --- |
| TOP | Jane Jenkins' "TECHNIQUES IN QUILLING No. 3" | NEXT |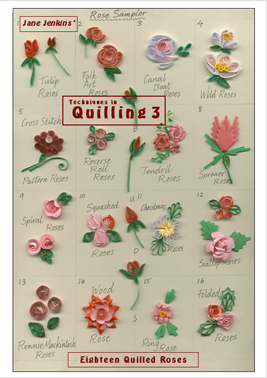 "Eighteen Quilled Roses"
There are so many ways Jane has of making roses. Some are her adapting of existing techniques, some are
those she has developed herself - all fun, attractive and effective for all kinds of uses.
There are quilling and other techniques here to whet the appetite and exercise the fingers.
Full colour pictures and easy to follow designs make learning the roses enjoyable for all.
The techniques sampler, alone, looks a picture.
£3.05
---
| | | |
| --- | --- | --- |
| TOP | Jane Jenkins' "TECHNIQUES IN QUILLING No. 4" | NEXT |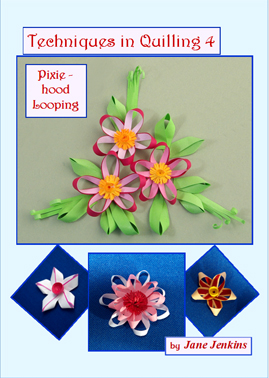 "Pixie-hood Looping"
A long time ago, a friend gave Jane a photo of an antique religious boxed quilling. It was because this shows an unusual shape
for antique paper filigree work - Fringed Flowers - that Jane looked hard at it recently. Then she noticed something else,
quite different from what you expect in a quilling of the time. She saw what she calls 'Pixie-hoods' (because they look like that).
We have seen these shapes elsewhere, made from wood shavings (see 'Eighteen Quilled Roses', above) but not, before, in an antique.
Jane immersed herself in experimenting with these Pixie-hoods and was quiet for a long, long time.
She was developing all the Pixie-hood techniques you can find in this book, which shows you how to make them all.
Some are simple loops, becoming more complex as you read on.
They're great fun for all quillers and are certainly something different and very attractive for your quilling.
£3.60
---
| | | |
| --- | --- | --- |
| TOP | Jane Jenkins' "QUILLED TEDDY BEARS" | NEXT |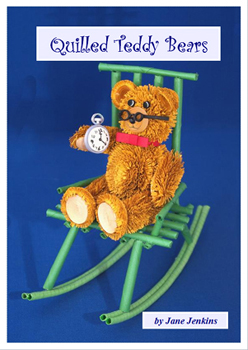 There's no getting away from it when it comes to 'cute'; Teddy Bears are right up there at the top.
In this book you will find designs for teddies on greetings cards, a bookmark and pencil top.
All the techniques you need to make these teddies are described here.

Jane's always wanted to design free-standing teddies, and now she's delighted to show you how to make them.
These lovable, 'fluffy' bears are Pom-pom-tastic!
£4.50
---
| | | |
| --- | --- | --- |
| TOP | Jane Jenkins' "59 GREATEST QUILLING TIPS" | NEXT |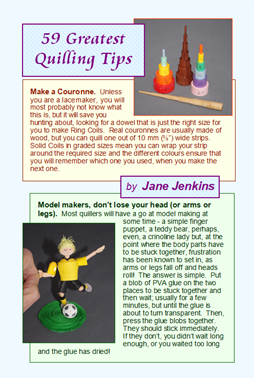 Jane has been quilling since 1980, and has taught quilling for almost as long.
She has picked up a wealth of knowledge, including tips to help you quill better and to make your quilling easier.
There are 59 of her suggestions for quillers in this book. These useful hints and tips could help
beginners or experienced quillers to make your finished quillings interesting and accomplished.
£4.50
---
| | | |
| --- | --- | --- |
| TOP | Jane Jenkins' INSTRUCTION BOOKS | NEXT |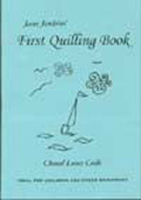 The FIRST BOOK teaches basic quilling in easy stages, simple and light-hearted for beginners of all ages, much liked for its easy steps,
with detailed drawn diagrams and designs (rolling with or without tools). The SECOND BOOK teaches "Open Coils",
the THIRD BOOK, "Wheatear and Finger Coils" and the FOURTH BOOK, "Tight Coils".
Why not try the FIFTH BOOK, "Quilled Eggs", too?
£2.45 each
---
| | | |
| --- | --- | --- |
| TOP | Jane Jenkins' "JOLLY JOGGLE EYE DESIGNS FOR QUILLING" | NEXT |



If you like having fun, quilling cute characters, you'll fall for these - they have joggle eyes for that extra
'je ne sais quoi ~ but je don't really care!'. In this book, there are 32 designs for all seasons,
feathery or furry, sea creatures and vehicles, plants and whimsical things.

There are clear designs, tips on the techniques used and colour pictures.

£2.45



---
| | | |
| --- | --- | --- |
| TOP | Jane Jenkins' "BRIGHT AND BEAUTIFUL" | NEXT |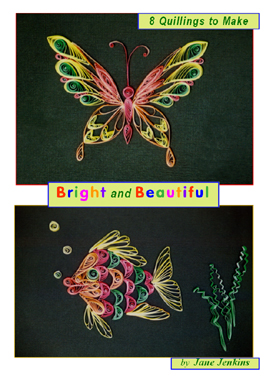 Brighten up your life, and your friends' with these colourful, bright and beautiful designs.
Along with the Butterfly, Fish, Parrot and Clown, which look great quilled with Fluorescent papers,
try the tree Bauble, Flower, Mandala and Candle, possibly with Two-tone strips and some papers with a bright Metallic Edge,
to create a stunning effect. Of course, you could use any bright papers you choose.
The techniques you use are all described. You can mostly use just your fingers
but a foam Quilling Board can help with planning and making looped shapes.
£2.45
---
| | | |
| --- | --- | --- |
| TOP | Jane Jenkins' "3D QUILLED CARDS FOR SPECIAL OCCASIONS" | NEXT |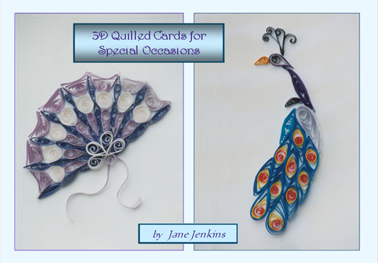 Quilled cards are interesting enough but, with the added dimension of depth, they can be more special.
These cards are meant for special occasions, when that extra dimension can make the person receiving the card
feel that your friendship with them isn't flat – it has depth!
Making the cards is described clearly and it is not difficult to impress your friends, celebrating such as their Wedding,
Anniversary, their New Baby, 'Bon Voyage', Valentine's Day, Easter, Christmas, just 'cos they deserve it, etc.
£3.05
---
| | | |
| --- | --- | --- |
| TOP | Jane Jenkins' "BRITISH WILD FLOWERS" | NEXT |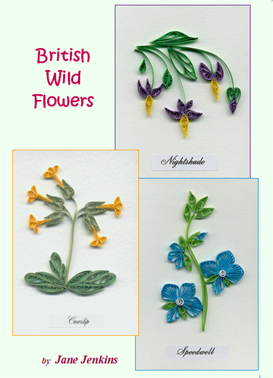 There are no fewer than thirteen beautiful wild flowers to make, such as you might see growing in the margins of fields,
in the hedgerows and in the corners of gardens, in the wild area for birds and butterflies to visit.
Some we remember from Grandparents' gardens - Forget-Me-Nots, Speedwell.
Some we played amongst as a child - Daisies, Buttercups - all have been with us for centuries.
Campion, Herb Robert, Nightshade and Heartsease (so loved in Elizabethan times that they are mentioned by the Bard himself)
are there, with clear patterns and techniques explained.
£2.45
---
| | | |
| --- | --- | --- |
| TOP | Jane Jenkins' "SIX BRITISH GARDEN BIRDS" | NEXT |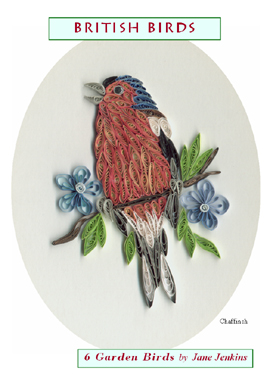 This book helps you quill six beautiful British garden birds - Blue Tit, Chaffinch, Yellowhammer, Greenfinch, Goldfinch and Robin.
We notice these birds at certain times of the year and feed them to enjoy their glorious colours and birdsong.
These patterns suggest the colours that will create the most natural quillings of our favourite birds.
All techniques are well described and are not as challenging as the final picture suggests.
£2.70
---
| | | |
| --- | --- | --- |
| TOP | Jane Jenkins' "CHRISTMAS CUTIE QUEUES" | NEXT |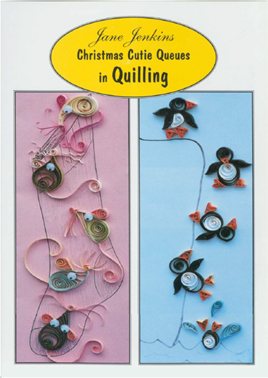 Another fabulous quilling book from Jane Jenkins; these Christmas card ideas concentrate on the simple but super 'Cutie Queues' idea.
Make amusing Christmas cards, each featuring cutie creatures, angels and trees, etc., all in a row, to bring a smile to your face
and make your fingers itch to make a start.
(You fold A5 cards [21cm x 14.8cm] along their length to make the queue.)
£2.45
---
| | | |
| --- | --- | --- |
| TOP | Jane Jenkins' "80 QUILLED GIFT TAGS" | NEXT |



Yes, a book with more than 80 Gift Tags for you to make, with beautiful colour illustrations and clear designs,
for all those interested in tiny designs. Each quilled in a matter of minutes, these ideas are excellent for birthdays,
anniversaries, baby arrivals, Easter, Christmas - and any other time of the year!

You can even use them for a quick greetings card, too, if you like.

£4.50



---
| | | |
| --- | --- | --- |
| TOP | Jane Jenkins' "FRINGED FLOWERS" | NEXT |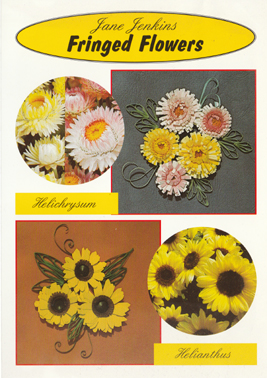 A fabulous book of twelve Fringed Flowers, each designed to be as alike as possible to the real flower pictured beside it.
These are beautiful garden flowers which, if they don't grace your garden already, will look splendid on your cards.
See the real blooms on TV gardening programmes. Now with four extra flowers, including Acacia and Gaillardia.
Techniques and tips, with clear designs, colour pictures.
£3.60
Set of one of each flower name stickers - 30p
---
| | | |
| --- | --- | --- |
| TOP | Jane Jenkins' "FAVOURITES FOR QUILLING" | NEXT |



These are 20 of our favourite designs, popular as a next step for beginners. Now a book with colour pictures and clear patterns,
which combines two previous booklets. Quill animals, birds, flowers, sea creatures, a lady, a clown and even a hot air balloon.

Some are simpler than others, all using Closed Loose Coils. Have fun varying colours for lots of different cards and pictures.

£3.60



---
| | | |
| --- | --- | --- |
| TOP | Jane Jenkins' "QUILLINGS - SWEET & SIMPLE" | NEXT |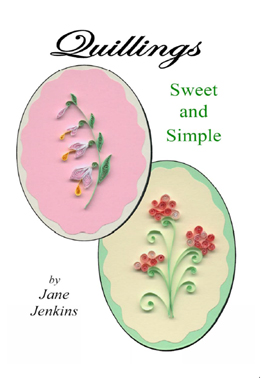 If you have seen Jane's book (published by Search Press), 'Quilling – Techniques and Inspirations', above,
it's written with the more experienced quiller in mind, so you will meet some more challenging projects.
Now, here is a complete contrast. 'Quillings – Sweet & Simple' is just that.
Here are sixteen beautiful designs for cards which can be made relatively quickly but look special enough
for anyone to be delighted to receive one. The colour pictures and clear designs make it simple to follow
and you can easily learn all the techniques required.
If you are new to quilling, or are making lots of cards and time is pressing, this book is for you.
£3.60
---
| | | | |
| --- | --- | --- | --- |
| TOP | Jane Jenkins' "QUILLING: TECHNIQUES AND INSPIRATION" | | NEXT |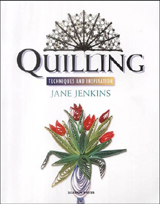 This is Jane Jenkins' first book for Search Press. It's packed with ideas and techniques to enthral experienced quillers
who want more of a challenge. Its versatility offers many possibilities; Jane Jenkins has brought together a tasteful collection
of designs and projects, with many step-by-step photographs, patterns and clear text.
She shows how to make Art Nouveau and fantasy figures, Victorian fans, butterflies, candlestick holders and more.
The beautiful, intricate and delicate filigree patterns and pictures she creates are original and unique,
and guaranteed to satisfy your urge to quill.
£9.00
---
| | | | |
| --- | --- | --- | --- |
| TOP | Jane Jenkins' "THREE-DIMENSIONAL QUILLING - MAKING CHARACTERS" | | NEXT |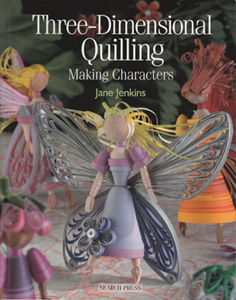 This is Jane Jenkins' second book for Search Press. Children and adults love making free-standing characters
and this book caters for all from young quillers to those who wish they were.
You can have great fun making different finger puppet characters, then a lanky legged frog, a bird, cat and mouse,
or move on to poodles, fairies and elves, and then challenge yourself to making different angels.
Lots to do, with clear steps and beautiful pictures. From the basics to the wow factor.
£7.00
---
| | | | |
| --- | --- | --- | --- |
| TOP | Jane Jenkins' "24 GREETINGS CARD DESIGNS" | | NEXT |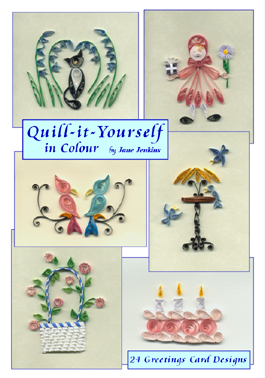 In response to many requests we have combined our most popular Quill-it-Yourself Booklets
in a series of new books with colour illustrations.
Here is the first full 'Quill-it-Yourself' Design Book in Colour, containing
all 16 simpler patterns from Greetings Cards 1 & 2, plus 8 more (a bit more advanced) original designs,
with instructions and colour pictures.
£2.70
---
| | | | |
| --- | --- | --- | --- |
| TOP | Jane Jenkins' "22 FLOWER DESIGNS" | | NEXT |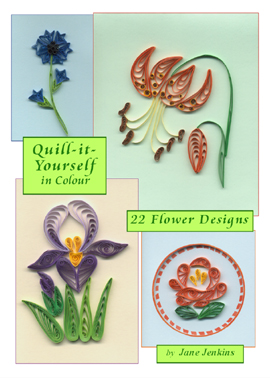 Here is the second of our 'Quill-it-Yourself' Design Books in colour. It has all of our Flowers 1, 2 and 3 designs,
now brought to life in one colour book, with instructions and colour pictures.
There are flowers for many occasions, from simple flowers to more challenging ones,
fun or classy, all suitable for cards, pictures, or decorating pretty wooden boxes, etc.
£2.70
---
| | | | |
| --- | --- | --- | --- |
| TOP | Jane Jenkins' "ROBINS, PENGUINS AND SNOWMEN" | | NEXT |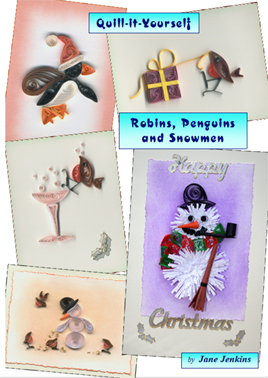 When you are choosing your Christmas cards, we're sure you'll notice that cute Christmas characters seem to feature quite a lot.
This book chooses just three of them: comical Robins, potty Penguins and silly Snowmen.
Fortunately for us, they are all very easy to quill so that you can create
your hand-made cards in no time. They're excellent for gift tags, too.
Your friends and relatives will be delighted with the result and you should have a lot of fun.
£2.70
---
| | | | |
| --- | --- | --- | --- |
| TOP | Jane Jenkins' "30 BEGINNERS' DESIGNS" | | NEXT |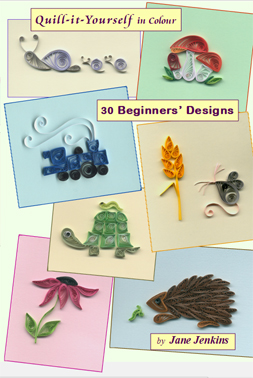 Our '30 Beginners' Designs' book comprises three Quill-it-Yourself Design Beginner Booklets with some extra designs, too.
This book of designs is ideal for the beginner quiller of any age who is learning to use the basic shapes and wants to make
simple but effective cards for friends. There are cute creatures here, such as a lion, bunny, frog, as well as a selection of flowers
to use on their own in a picture or incorporate for a floral design. There are trees, toadstools, and even snails and a caterpillar
to nibble at your quilled plants. Oh joy! There are a steam engine and a vintage car, a wise old owl and many others, too.
You have colour pictures, clear patterns and simple instructions to introduce you to quilling shapes.
If you like more chatty instructions, Jane Jenkins' Instruction Books are a good companion.
£2.70
---
| | | | |
| --- | --- | --- | --- |
| TOP | Jane Jenkins' "23 CHRISTMAS DESIGNS" | | NEXT |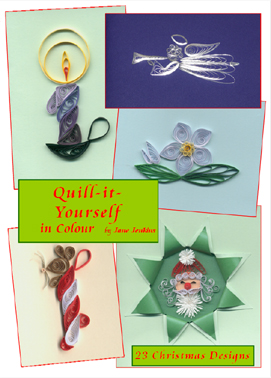 All kinds of Christmas card ideas; colourful, sometimes shiny, easy or more involved, flamboyant
or more traditional - there's something for all who send Christmas cards!
There are 23 designs taken from our 'Quill-it-Yourself' booklets Christmas 1, 2 & 3, using well-described techniques, humorous
and cheerful, to help you send your very best wishes in a way that shows you care!
There's even a shiny bauble for your tree. (You can use Metallic Edged Strips to give that added shimmer.)
£2.70
---
| | | | |
| --- | --- | --- | --- |
| TOP | Jane Jenkins' "18 QUILLED FIGURES" | | NEXT |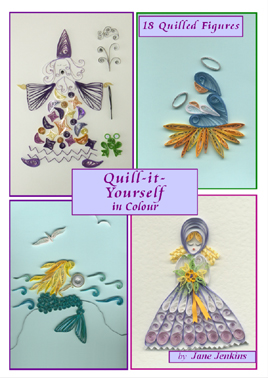 Here is another of our 'Quill-it-Yourself' Design Books in colour. It's has our 'Costumed Figures', people from yesteryear -
Victorians, Edwardians, dressed in their attractive costumes that lend themselves so well to quilling;
flying a kite, walking Baby, looking cute or looking stunning.
Then there are the exciting 'Fancy Dress Figures', from Mermaid to Wizard, Clown to Fisher-Boy and Gypsy Dancer.
After all that, there are the 'Christmas Figures'; there's Santa, of course, but also Mother and Child, a Little Angel,
Choirboy and Carol Singer, a Skating Lady and, of course, the Three Kings.
There are instructions and colour pictures, as well as explained techniques.
Lots to do, so many friends to please when they open your cards.
(You may like to add some Metallic Edged Strips to make stars, crowns and gifts really shine.)
£2.70
---
| | | | |
| --- | --- | --- | --- |
| TOP | Jane Jenkins' "SANTAS, SNOWFLAKES & SEASONAL TREES" | | NEXT |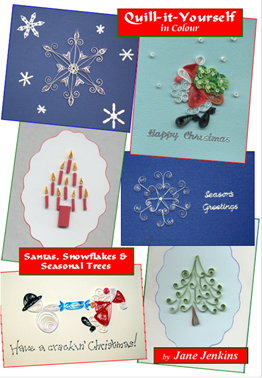 Here is the next of our 'Quill-it-Yourself' Design Books in colour. It's Santa's Christmas treat!
Lots of cardmaking ideas, from the simple to the more involved, these designs are all just right for your friends and family at Christmas.
The Santas and snowflakes are adapted from our Quill-it-Yourself booklets and the various Christmas trees are designed for this book.
There are techniques which may be new to you but all are easy to learn.
Plenty of choices of fun-to-make and to receive cards, to striking 'posh' ones, if you like. You can even make hangings for your tree.
(You can use Metallic Edged Strips to make your snowflakes, baubles, crackers and fish (yes, fish) shine out on Christmas Day.)
£2.70
---
| | | | |
| --- | --- | --- | --- |
| TOP | Jane Jenkins' "30 SPRINGTIME DESIGNS" | | NEXT |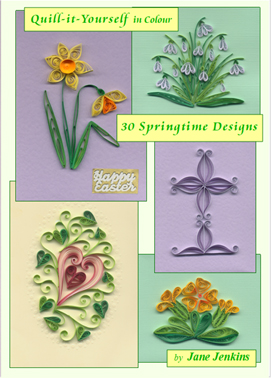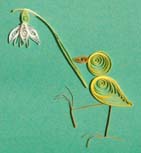 Our '30 Springtime Designs' book is an amalgamation of four sets of our designs.
Starting from the basic bunny, chick and duckling, we put them into springtime scenes, interacting with frogs, caterpillars,
butterflies and birds, playing amongst spring flowers, toadstools and in bullrushy ponds.
Scenes are taken from 'Funny Bunnies', 'Cheeky Chicks', 'Dizzy Ducklings' and Easter themes from 'Springtime'.
You can make individual cards with the patterns, or combine them to make larger pictures, as we show you.
These designs are suitable for beginners, showing basic techniques, moving into intermediate ones.
There are cards for Mothers' Day, Valentine's Day, 'Bon Voyage', engagements or weddings,
all filled with Springtime joy and hopes, to cheer us up after the winter and to celebrate Easter.
£2.70
---
| | | | |
| --- | --- | --- | --- |
| TOP | NEW! Jane Jenkins' "LETTERS AND NUMBERS" | | NEXT |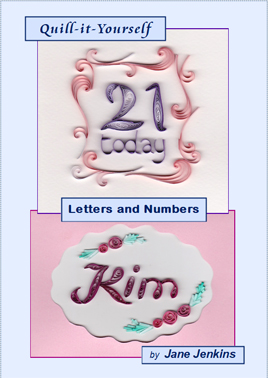 There are so many occasions where you want to quill letters or numerals.
Birthday cards are personalised by showing the recipient's name and their age, particularly if it's a special achievement.
You can name a bedroom or the bathroom with a plaque. A quilled egg with a date picked out in shiny strips
is a beautiful present on a special event.
Here are ideas to follow and a selection of capital and small letters with numbers in different styles.
£2.70
---
| | | | |
| --- | --- | --- | --- |
| TOP | Jane Jenkins' "OWLS & FROGS, CATS & MICE" | | NEXT |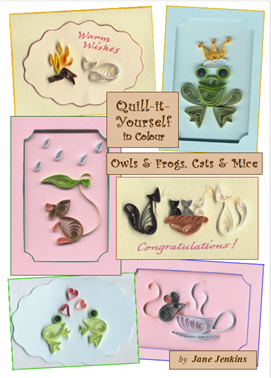 We are a nation of animal lovers, there is no doubt, and here are some of the ones we love the most, Cats, Mice, Owls and Frogs.
Their distinctive shapes make them easy to quill and quick to finish so they are great for greetings cards for family and friends -
especially for those who love animals. Cat families, wise old owls, frog princes and mice being, well, mice, amuse and entertain.
There are suggestions for different uses and the usual clear instructions.
£2.70
---
| | | | |
| --- | --- | --- | --- |
| TOP | Jane Jenkins' "CONNIE & CONNOR - SPORTS AND PASTIMES" | | NEXT |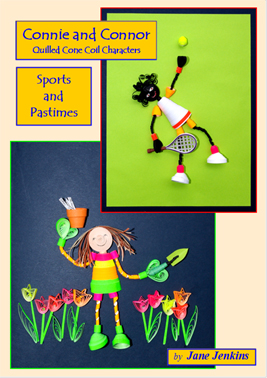 Connie and Connor arose from people's increasing interest in making 3D characters but these are different.
You use them to make greetings cards. Connie and Connor, the Cone Coil Characters, like playing sports
and doing pastimes, and they stand out from the card like characters in a frieze.
Colourful and great fun, they make lovely cards for golfers, tennis players, inline skaters, gardeners, shoppers, cooks, crafters and more.
They are bright and cheerful and have already given quillers hours of amusement.
Full instructions and colour pictures. You may like to use 3mm and 5mm wide Fluorescent Strips to make Connie and Connor.
£2.70
---
| | | | |
| --- | --- | --- | --- |
| TOP | Jane Jenkins' "FRINGED FLOWER HYBRIDS" | | NEXT |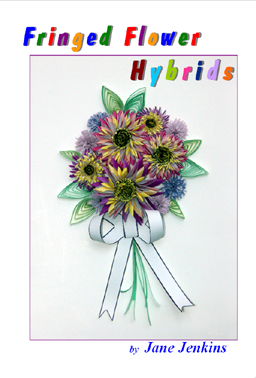 Twenty-seven or more Fringed Flower techniques, bringing you right up-to-date to the present time!
We were asked so many questions after quillers saw Fringed Flowers in Jane's 'Quilling Techniques and Inspiration'
so she wrote this book as a response. This beautiful colour book explores the many fringing variations,
and has patterns and pictures so that you have all the information you need.
This gives you the low down on how to make these stunning shapes.

£4.50
---
| | | |
| --- | --- | --- |
| TOP | Jane Jenkins' "QUILLING PAPER SPREUERS" | |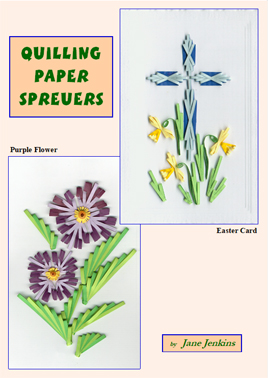 Jane has developed this traditional Swiss straw-work technique to make beautiful cards with paper quilling strips.
There is a baker's dozen of designs. It's not truly 'Quilling' but it's absorbing and a pleasure to do
as part of a quilled design or on its own, as our Spreuer card pictures show.
Just read and follow the instructions - no experience needed. You loop paper strips back and forth around the prongs of an onion holder
(available and inexpensive from JJ Quilling Design), following the step-by-step instructions. The result is beautiful.
£3.60
---
| | | |
| --- | --- | --- |
| TOP | Jane Jenkins' "SHINY CHRISTMAS SPREUERS" | |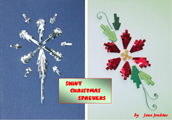 Jane's 'Quilling Paper Spreuers' has been so popular, using Two-tone strips to great effect (see above).
Now, here is a colourful book of shiny Christmas card Spreuer designs.
See how striking Mirror Strips are in Spreuer pictures, or just use the strips of your choice for different effects.
The instructions are easy to follow, with no previous experience needed. We do recommend using Extra strong PVA glue for Mirror Strips,
(from JJ Quilling Design) and you will need an onion holder as well as quilling strips.
£2.70
---